We place orders a few months in advance (check out the latest catalog HERE) but lots of titles get a last minute chance to adjust orders. These titles are due to arrive on the 9th of October, last chance orders are due 14th of September (or 13th of September for DC Comics series, so hurry!)…
New Comics series
GETTING IT TOGETHER #1 (OF 4)
New Image mini-series starts 9th of October.
SERIES PREMIERE! Newcomer artist JENNY D. FINE shines alongside Marvel Comics' Iceman writer SINA GRACE and co-creator OMAR SPAHI in the all-new modern dramedy you didn't know you needed! Sam and Jack are best friends, and Sam is dating Lauren, Jack's indie rocker sister and roommate. When Sam and Lauren open up their long-term relationship, skyrocketing tensions send social shockwaves through their friend group and the entire Bay Area. And Jack, caught in the middle of it all, may be forced to take sides in a conflict he never wanted to be a part of. Life gets pretty messy when you're in your 20s and your friends are your family. PREVIEW>>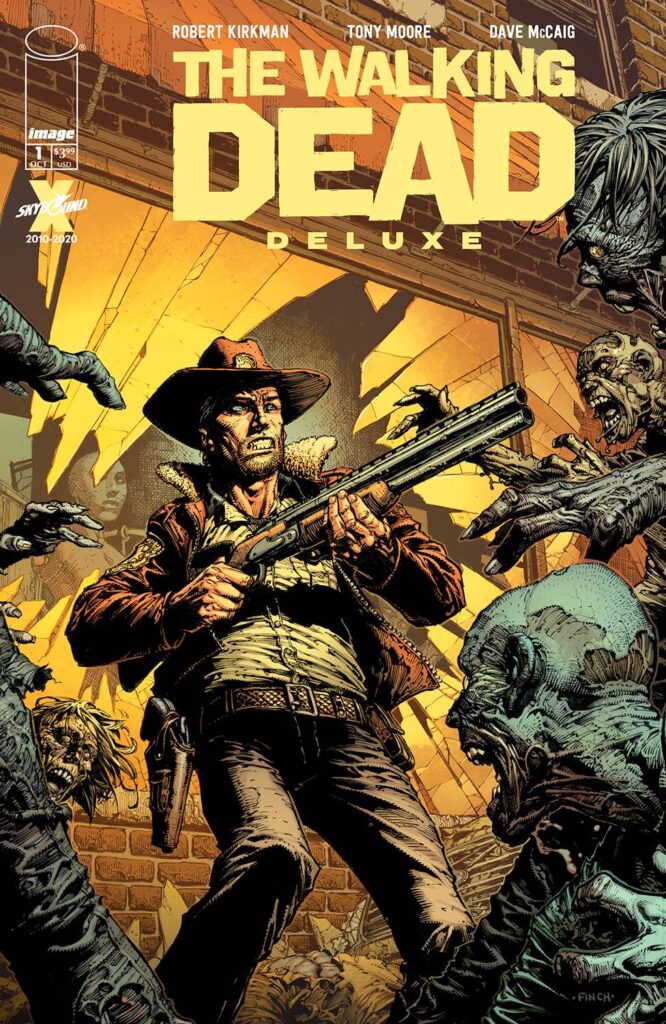 WALKING DEAD DLX #1
New coloured editions of the smash hit comics start 9th of October.
Read it again! It's time to revisit the historic independent series that took the entertainment world by storm 17 years ago! Follow Rick Grimes's journey again, from the very beginning, but this time in STUNNING FULL COLOR by the masterful DAVE McCAIG.
This deluxe version will feature a memorable array of variant covers commemorating major character introductions and the series' most memorable twists and turns. Each issue will include a new installment of "The Cutting Room Floor," featuring ROBERT KIRKMAN's original handwritten plots along with commentary on abandoned storylines and things that may have changed along the way. This deluxe, definitive presentation of the story in full color will NOT be collected any time soon, so these single issues will be the only way to experience this. PREVIEW>>
NEIL GAIMAN NORSE MYTHOLOGY #1
New adaptation starts in single issues 9th of October.
#1 New York Times bestselling author Neil Gaiman and Eisner Award-winning comics legend P. Craig Russell breathe new life into the ancient Norse stories by taking readers through the creation of the Nine Worlds to the epic origin and adventures of Thor, Odin, and Loki all the way to the end of life-Ragnarök.
Having previously written about deities in American Gods and The Sandman, Gaiman teams with Russell to finally bring readers to follow the northern gods in their own setting in this comic book adaptation of the hit novel!
SONIC THE HEDGEHOG BAD GUYS #1 (OF 4)
Begins 9th of October.
The mastermind behind the Metal Virus isn't done yet. Ian Flynn returns to answer: What happened to Dr. Starline?

The Shadowy Scientist is back to his evil antics in Bad Guys! And what better place to concoct nefarious plans than one of Dr. Eggman's abandoned bases? But that is easier said than done when badniks are guarding the entrance! Dr. Starline knows he can't do it alone, so he decides to recruit some familiar and not so friendly faces.
CHAMPIONS #1
New series starring Kamala Khan and Miles Morales starts 9th of October.
• Kamala Khan (Ms Marvel), Miles Morales (Spider-Man) and Sam Alexander (Nova) find themselves and their team at odds of a new law…But the world still needs heroes, even if the world doesn't want them right now.
• After Ms. Marvel makes an unexpected and emotional announcement that her team won't go down without a fight, a group of teen vigilantes gathers to plan their next move. But the C.R.A.D.L.E. task force is hot on their trail, and there's a spy in their midst…
• Eve L. Ewing (IRONHEART, OUTLAWED) and Simone Di Meo (IMMORTAL HULK: THE BEST DEFENSE and VENOM: ACTS OF EVIL) team up for a dramatic new era of Champions that will define Marvel's teen heroes for years to come!
SPIDER-MAN MARVELS SNAPSHOT
Arrives 9th of October.
Let's say you're a lowlife criminal in Manhattan, just trying to get by in a world that's recently gotten full of spider-men, daredevils, power men and more, and you just want to make a decent illegal living. Plenty of henchman work available, if you don't mind ending up in traction. And oh yeah, there's a brewing super villain gang war building. What do you do? Keep your head low or go for the big win? Superstar storyteller Howard Chaykin (American Flagg, Wolverine) takes you through Marvel's mean streets. Just watch out for Spider-Man, Cloak & Dagger and more.
AMERICAN RONIN #1 (OF 5)
5 issue mini series starts 9th of October.
War is over, democracy an illusion, real power now lies not with nation states but huge corporations engaged in a silent war for global domination. Their number one weapon: highly-skilled, technologically-enhanced operatives trained since childhood to pledge their allegiance to the corporate flag. But what happens when one such operative breaks free of his mental chains and decides to bring the whole system down? Can one "Ronin" make a difference?
CARMINE #1
New series begins 9th of October
Carmine is the new "seal bearer" for the House of Cochineal. Destined to become the future Queen of the House; ruling the Guardian Organization: which on the face of it is a charity for talented orphans, but is charged with keeping humanity safe. Carmine's race; Antediluvians bonded to their "seals" are given long lives as well as "powers." Carmine's seal The Lightning Beast is deemed both a declaration and warning when it awakes; the competition wants her dead before that happens.
ARCHIES HALLOWEEN SPECTACULAR
One shot arrives 9th of October
Watch out for monsters among us and creatures that go bump in this night in this collection of horrifyingly hilarious Halloween-themed stories!
DEVILS RED BRIDE #1
New monthly series begins 9th of October
16th century Japan. The fates of warlords ebb and flow like tides of blood, none more than the Aragami Clan who follow their lord clad in the 'Red Devil' mask into every battle. But when Lord Aragami succumbs to illness, his daughter, the fierce Ketsuko, hatches a plot to save her people, no matter the cost…
Years later, as Ketsuko wanders the heaving battlefields of her ruined homeland, she discovers a chance to avenge the terrible wrong done to her clan, even if it means stepping back onto a road steeped in slaughter.
From writer Sebastin Girner (Shirtless Bear-Fighter!, Scales & Scoundrels) and artist John Bivens (Creature Feature, Spread) comes a blood-drenched love letter to Samurai fiction in a chilling tale of guilt, trauma, and vengeance.
MIRANDA IN MAELSTROM #1
New series begins 9th of October
The Multiverse Maelstrom! A supernatural storm that crosses over between dimensions, displacing beings and objects from alternate realities. Most fear the maelstrom, but interdimensional explorers Miranda Sherbet and her shark-dog Noodles use the storm as a means of travel and adventure. But when Miranda finds herself disoriented and separated from Noodles, she runs into the storm fighting off violent aliens, harsh weather conditions, and the traumatic memories that set her down this path. Will Miranda find Noodles and continue their adventures, or will they be alone in infinity?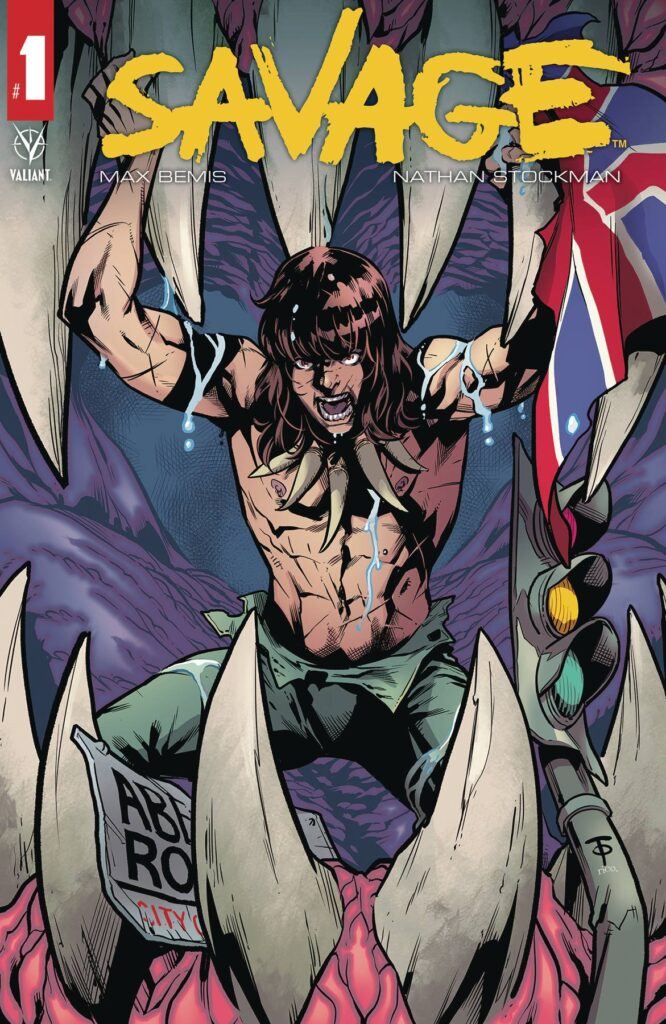 SAVAGE (2020) #1
New series begins 9th of October
From the mad minds of international superstar Max Bemis and powerhouse artist Nathan Stockman comes the craziest action book of 2020.
Teenage heartthrob. Feral social icon. Dinosaur hunter?
Born and raised on an uncharted island full of prehistoric dangers, Kevin Sauvage has a taste of home when a mutant dino threat invades England! PREVIEW>>
MYTHS & LEGENDS QUARTERLY ARES #1
Arrives 9th of October
Spinning directly out of the events in the Grimm Universe Presents 2020 special. After suffering a brutal defeat at the hands of the newly resurrected Hades, Ares ,The God of War, is teleported to realm of Myst with no memory of who or what he truly is.
Now with a second chance at a life of happiness and contentment among the innocent people of the town Alexander will Ares find the peace he has always desired before his turn to evil or will his true nature come back to haunt him when faced with an all new deadly enemy intent on destroying them all…the Warmonger. This oversized 72 page extravaganza is brought to you by Wonderland/Helsing writer Raven Gregory with art by Renzo Rodriguez and Fran Gamboa!
This is one story not to be missed!
TALES OF TERROR QUARTERLY 2020 HALLOWEEN SPECIAL #1
Arrives 9th of October
You have never seen a Tales of Terror Halloween special like this!
Presenting for the first time in the new Quarterly format, with 72 pages of pulse-pounding horror, join Keres, the goddess of death as she brings her own brand of punishment and justice to those unlucky enough to be worthy of her wrath!
Don't miss these new tales of terror, just in time for the horror season!
RORSCHACH #1 (OF 12)
Arrives 16th of October
It's been 35 years since Ozymandias dropped a giant interdimensional squid on New York City, killing thousands and destroying the public's trust in heroes once and for all. And since that time, one figure in a fedora, mask, and trenchcoat has become a divisive culture icon.
So what does it mean when Rorschach reappears as an assassin trying to kill a candidate running against President Robert Redford? Who is the man behind the mask, and why is he acting this way? It's up to one detective to uncover the true identity of this would-be killer—and it will take him into a web of conspiracies involving alien invasions, disgraced do-gooders, mystic visions, and yes, comic books.
Writer Tom King joins forces with artist Jorge Fornés for a new miniseries that explores the mythic qualities of one of the most compelling characters from the bestselling graphic novel of all time, Watchmen.

BATMAN #100
Arrives 9th of October
"The Joker War" comes to a city-shattering conclusion as Batman battles The Joker in a brutal, no-holds-barred duel! This is a fight 80 years in the making, and its outcome won't just change Batman's life—it will change Gotham City for years to come! Plus, catch the first glimpse of the new villain known as Ghost-Maker! And after the senses-shattering conclusion of "The Joker War" come a pair of short stories that will chart what's to come in Gotham City and Batman. Don't miss the first showdown between Batman and Clownhunter!
AMERICAN VAMPIRE 1976 #1 (OF 9)
Arrives 9th of October
America is broken. Trust between the government and the American public has crumbled. Paranoia reigns supreme.
It's 1976, and this is the concluding chapter of the Eisner Award-winning American Vampire!
Skinner Sweet has exhausted all efforts to regain his lost immortality. With his powers and purpose gone, he is now determined to go out with a bang. At a seedy motorcycle rally in the desert where he's closer than ever to his death wish, Pearl Jones and a shocking partner tracks him down for one last, desperate mission: The force known as the Gray Trader and its minions are tunneling through the bowels of the world to unleash hell on Earth—just in time for America's bicentennial. With catastrophe looming, it's up to Skinner and Pearl to reconcile and change the course of history—or die trying.
The series that launched the careers of superstars Scott Snyder and Rafael Albuquerque returns for nine final issues and the closing chapter of the legacy of American Vampire.
DC THE DOOMED AND THE DAMNED #1 (ONE SHOT)
Arrives 9th of October
It was a dark and stormy night when the creatures of the DC Universe began to emerge from their lairs into the cool evening air. Tales of the macabre, the murderous, and the morbid abound in this spine-chilling special about monsters and mayhem! What happens when Batman encounters a true urban legend after speaking its name three times in a mirror, or when Madame Xanadu enlists the help of Man-Bat to take down a shadowy specter? And who can stop an intergalactic demon from turning people into frog beasts? Only the unlikely team-up of Green Lantern and Etrigan! All this and seven more fang-tastic tales to trick your treats and bob your apples.
Don't miss this special DC tribute to retailers.

LEGEND OF THE SWAMP THING HALLOWEEN SPECTACULAR #1 (ONE SHOT)
Arrives 9th of October
It's Halloween, and DC invites you to welcome Swamp Thing to your witching-hour festivities. In this 48-page collection of all-new stories, the Guardian of the Green reveals past lives and the unforgettable horrors that befall those who cross his path. From ancient Rome to present day, Swamp Thing stalks these ghostly and ghastly tales—all of which are best read by the light of a jack-o'-lantern!
WONDER WOMAN #1 (1987) FACSIMILE EDITION
Arrives 9th of October
In the wake of the Crisis on Infinite Earths, superstar artist George Pérez began his run on Wonder Woman with a modernized retelling of her origin story, from her creation on Themyscira to Ares' attack on Man's World.