We order new comics months in advance, so we like you to place your orders when they are first offered, like this>>
But some publishers give us a chance to adjust orders, which gives you a last minute chance to add it to your order so you don't miss out…
Orders for these new comics series close on Monday 19th of October. DON'T MISS OUT! Click the button to start a standing order so you don't miss an issue.
KICK-ASS VS HIT-GIRL #1 (OF 5)
(W) Steve Niles (A) Marcelo Frusin (CA) John Romita
NEW STORY ARC! It's KICK-ASS versus HIT-GIRL. Old allies become enemies when Mindy screeches into Albuquerque to kill the imposter who's been running gangs in New Mexico.
Starts 13th of November
HELLBOY & THE BPRD THE SEVEN WIVES CLUB
(W) Mike Mignola (A/CA) Adam Hughes
The team behind the Eisner Award-winning one-shot Hellboy: Krampusnacht spins a new ghostly yarn! Hellboy comes to the aid of a young girl whose ghost hunt goes wrong, and a visit to an abandoned medical school reveals sinister layers to a grisly, long-ago murder.
Due 13th of November
RESIDENT ALIEN YOUR RIDE'S HERE #1
Harry needs to figure out what to do with Honey, the only resident in Patience, USA, who sees him in his true alien form, as well as deal with his feelings toward Asta, his best friend. Harry's been stranded in a small town pretending to be a human doctor for so long, loneliness is bound to creep in.
Starts 13th of November
MARVEL ACTION CHILLERS #1
Jeremey Whitley pens the four spooky stories in this bi-weekly event, all drawn by a bone-chilling gathering of eerie artists! First: Strange and Ironheart learn of the spine-tingling time Iron Man and Captain America faced a horrifying post-modern prometheus!
Starts 13th of November
STAR TREK VOYAGER SEVEN'S RECKONING #1 (OF 4)
After Voyager encounters a damaged ship deep in the Delta quadrant, what at first seems to be a simple repair mission becomes much deeper as Seven of Nine becomes involved in an ancient conflict that will put her newfound humaity to the test.
Starts 13th of November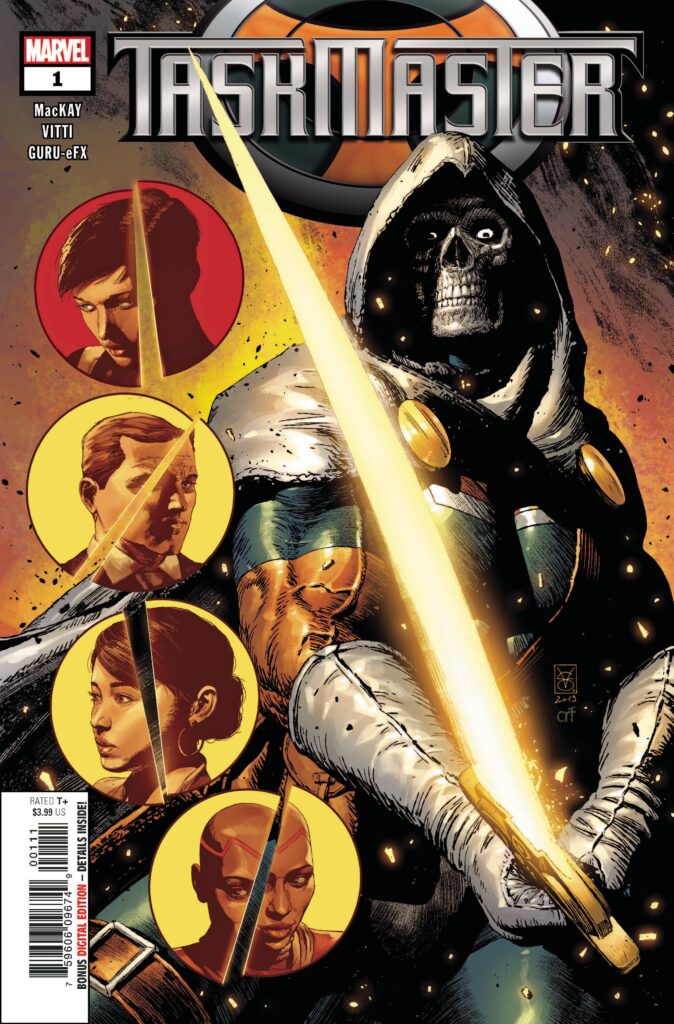 TASKMASTER #1 (OF 5)
TASKMASTER HAS MURDERED MARIA HILL!
Or at least that's what the whole world thinks. Now the greatest spies in the business are hunting him down and won't stop until Taskmaster is dead or clears his own name!
Starts 13th of November
POWER RANGERS #1
Two New Series, Two New Teams – The UNLIMITED POWER Era Begins HERE – And Only Lord Drakkon, Their Greatest Enemy, Can Save Them!
This is the companion series to MIGHTY MORPHIN
Starts 13th of November
ARCHIE & FRIENDS FALL FESTIVAL
Hop into a pile of leaves with Archie and Friends for this fun fall collection of stories! From pumpkin pies and haunted corn mazes to creepy campfire tales and raking leaves, this issue is full of autumnal activities!
Due 13th of November
BELLE – HORNS OF MINOTAUR #1
Belle is a beast hunter, a legacy passed down from mother to daughter in her family for generations. With that duty she has taken on many different kinds of creatures to protect our world from the unknown, and who equally wanted to end her life.
Starts 13th of November
CUTTING EDGE SIRENS SONG #1
Tomb Raider meets The League of Extraordinary Gentlemen in brand new series by renowned fantasy author Francesco Dimitri and award-winning Italian artist Mario Alberti.
Brought together by a clandestine corporation, the world's greatest minds are set a challenge of epic proportions: the dodecathlon.
Starts 13th of November
DARK INTERLUDE #1
After the stunning success of Fearscape, comes A Dark Interlude, the story of-No! The only offence to literature greater than the loathsome synopsis is the sequel. I will not stand idle while some poor excuse for an editor mangles and confuses my story, which is intact, perfect, and concluded, with this derivative drivel. Mark my words, this nonsense has nothing to do with my tale. I am not in it. I do not condone it. And you, dear reader, should not buy it. -HH
Starts 13th of November
I WALK WITH MONSTERS #1
Jacey and David (who sometimes transforms into a terrifying beast) have found a way to live to hunt, sniffing out men who prey on the vulnerable. But they are about to run into the Important Man who took away Jacey's brother. From Paul Cornell (Wolverine, Doctor Who, Elementary) and Sally Cantirino
Starts 13th of November
MISKATONIC #1
Hard-nosed investigator Miranda Keller is sent to stop a series of bombings targeting the Miskatonic Valley's elite. To J. Edgar Hoover, there can be no other explanation than those responsible for similar actions during the Red Scare of the 1920s…but when Miranda digs too deep, she uncovers an unimaginable occult conspiracy, one that may cost Miranda her job – and her sanity.
Starts 13th of November
VAN HELSING 2020 ANNUAL
Something from Liesel Van Hellsing's past comes crawling from the shadows, a creature with hate and revenge aimed for the famed vampire hunter, there's no telling what is in store for Liesel and her friends and if they will even be ready for it when it strikes.
Due 13th of November